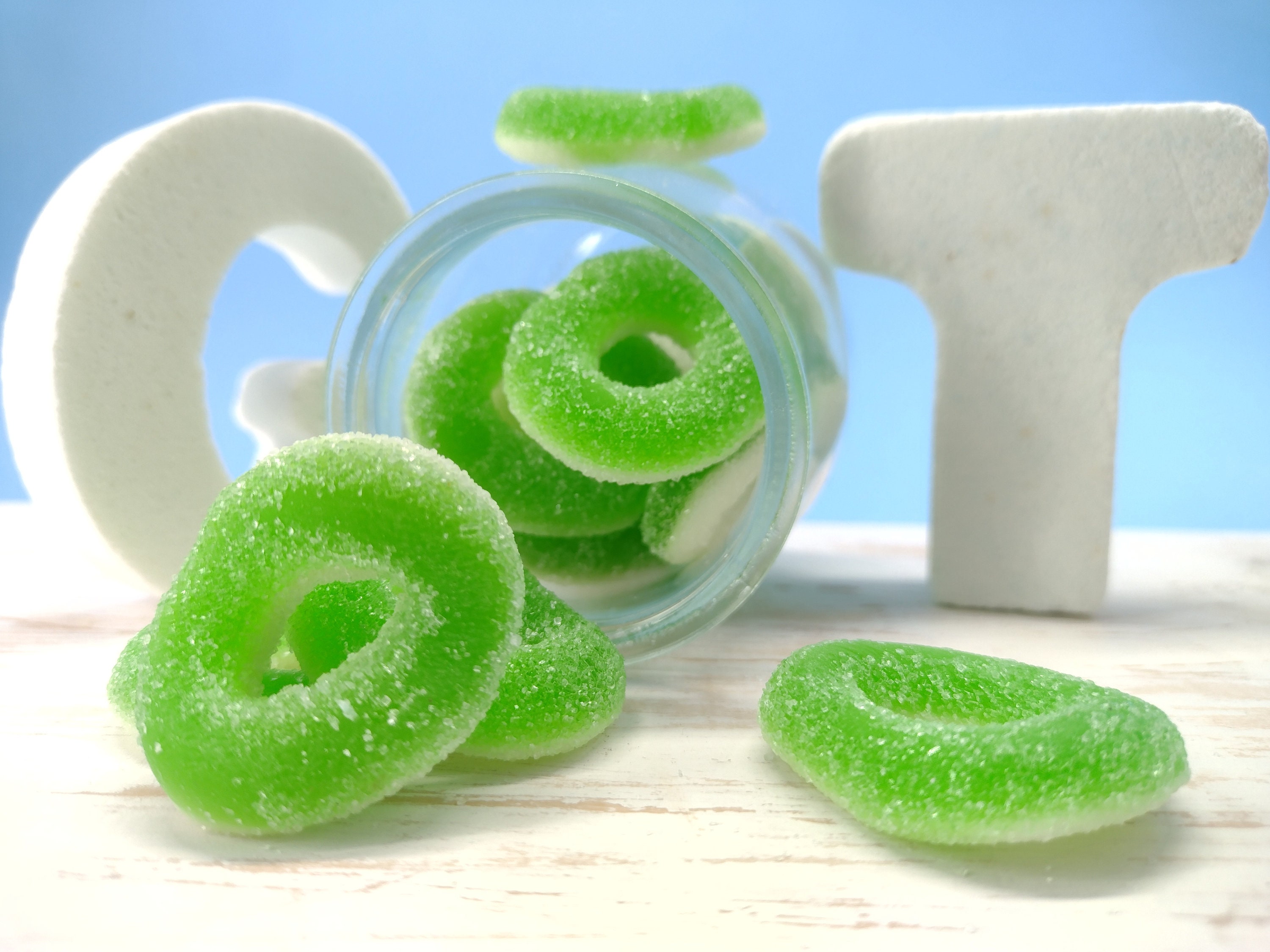 UK Free Delivery Fizzy Sour Apple Halal Gummy Rings. Retro Novelty Jelly Sweets. Pick & Mix Sweets Letter Box Gift Treat. Birthday Present
$6.07
Details
FREE UK DELIVERY

HALAL Tangy sour apple rings - Tasty combination of fruit gum and foam sugar for home and travel.

These Gummy Apple Rings have a sweet and sour sugar coating. Soft and chewy, with a layer of sugar foam, they're sure to become one of your favorites!


Brilliant Sweet Treat for a Birthday, Mothers Day, Fathers Day, a New Arrival, to say Thank You, or Apology or make a Special Celebration even more memorable.

Ingredients: Halal (HMC approved). Glucose Syrup, Azucar, Water, Gelatine, Modified Potato Starch, Acidulants: E330, E270, E296, Artificial Flavour, Coating Agents: Carnauba Wax; Colours: E100, E133.

Disclaimer:
We are retailers not the manufacturers of the product that can be found in our shop. Although we make all attempts to ensure that the information regarding product ingredients is up to date and accurate as possible. We cannot hold responsible for the accuracy of the ingredients and are not liable for any adverse reactions caused by the products.

Please see the specific Brand: Dulce Plus - for Nutritional Information. May contain traces of nuts.

If you have any questions, please feel free to send a message we are happy to help!
Shipping from United Kingdom
Processing time
3-5 business days
Customs and import taxes
Buyers are responsible for any customs and import taxes that may apply. I'm not responsible for delays due to customs.
Returns & Exchanges
I gladly accept cancellations
Frequently Asked Questions
Gift wrapping and packaging
Gift wrapping and special requirements for packaging are available upon request. Your order will be wrapped carefully and thoughtfully with paper, string, and a handwritten note with words of your choosing.
Custom and personalized orders are available upon request. We are happy to help you with your specific order. Please, do contact us at least a week before.
If your package does not turn up within the expected timeframe.
If you didn't receive your parcel within the expected estimated delivery dates, please contact us and we will do our best to sort this situation!
Please, bear in mind, that we won't proceed with actions or that a parcel is 'lost' in the post until it has been a full 10 working days from the date of expected delivery the UK ONLY (Royal Mail policy).
Who do you use to ship your parcels?
We use the Royal Mail, 2nd class postage.
cardboard parcel boxes with our logo on it
We pack all our candy orders with the utmost care but sometimes Delivery can be a little rough with our packages. While a few crumbs are natural during shipping if you ever feel your order has not arrived as it should please don't hesitate to reach out to us. But we promise the crumbs taste just as good as the rest. We recommend putting them on ice cream or just shake them straight into your mouth - YUM!
The parcel has been returned to our shop (the Royal Mail was unable to deliver it (missing address details, or incorrect address), the parcel wasn't picked up from the Post Office on time. Refused by Customs. What happens next?
If the parcel is returned to our shop with reasons:
- Royal Mail was unable to deliver (incorrect or uncompleted address)
- The parcel was not picked up at the Post Office on time.
- The parcel was refused.
- Customs refused the parcel without explanation.
Our shop cannot accept any returns for perishable or bespoke goods. This refers to all products CandyDuke store sells as they are made to order. We cannot accept items that are returned to sender, or that are refused for whatever reason. They will have to be discarded due to the nature of the items. Because of this, we cannot refund, so please ensure that your parcel is received.

Thank you for your understanding.
The tracking number says that the parcel was delivered, but I don't received it.
We will work together to find a way to resolve this situation. Please,
- firstly carefully double-check that the address is correct
- talk to your neighbours to make sure it wasn't delivered
to their house
- talk to your family members
- talk to your post person to check that it was delivered
If it has gone missing/stolen, please file a prompt police report. Keep us informed on how the process is going.
I need to place some updating with my order, How shall I do it?
Please contact us within one day of placing your order. We will be happy to assist you and we will do our best to sort an issue with your order. Anything past this date and we will be unable to help.
What size are Royal Mail parcel boxes we use and how it looks?
We will send your order in a cardboard parcel box with our logo on it. If you have a special requirement, please feel free to contact us.
What size are Royal Mail parcel boxes?
Royal Mail small parcels are up to 450mm x 350mm x 160mm in size with a maximum thickness of 160mm and a weight limit of 2Kg.
Royal Mail medium parcels are up to 610mm x 460mm x 460mm in size with a maximum thickness of 460mm and a weight limit of 20KG.
Royal Mail large parcels are classed as bigger than 610mm x 460mm x 460mm in size or weigh in at more than 20KG.
No shipping to Ireland until further notice.
No shipping to Ireland until further notice.
We are regrettably unable to send packages to Ireland due to its rogue customs office and An Post's unreliable delivery standards.
VAGUE "ISSUES" WITH NO CLEAR PATTERN
Ever since the customs rejection issue began, no clear pattern could be found. Approximately half of the packages we sent to Ireland end up being rejected by the customs office, while the other half were accepted and delivered successfully. We ran excruciating analyses on the packages, but found no clear pattern or reason for the Irish customs office to reject some (but not all) of our packages.
We considered if this was an issue with EU's then-new VAT system, but found no evidence to support this.
If my order cancelled
We apologize if we cancel your order or one of the items.
We are very passionate about customer service. Sometimes we fail to meet your expectations. If it happens, it was beyond our control due to technical/mechanical issues or delivery delays. (We do not stock a large quantity of non-freeze-dried sweets. Sometimes the wholesalers struggle to deliver the parcels on time as well).
In this case, we will do a partial refund for the canceled items or a full refund for the order. We do not replace items because of limited stock availability.
Once again, please accept our sincere apologies for the canceled order. If you need more information on the issue, contact us via Etsy.

Yours in service,
CandyDuke Team